Kids Activities
<!start HATHA YOGA content-->
Martial Arts
The term martial arts refers to all of the various systems of training for combat that have been arranged or systematized. Generally, these different systems or styles are all designed for one purpose: physically defeating opponents and defending against threats. In fact, the word 'martial' derives from the name Mars, who was the Roman god of war.
At GofigureFitness, there are exams taken every quarterly where the students and parents can keep a tab of the progress. With each exam the students are given progressive belts and certificates. The students are also asked to participate in championships, they are guided through the practice and have won awards and trophy's for the same.
Batch Timings :
Tues & Thurs 6.45pm
Sat & Sun 10.30am
<!end HATHA YOGA content--> <!start Ashtanga Vinyasa Yoga content-->
Gymnastics taken by Progressive Sports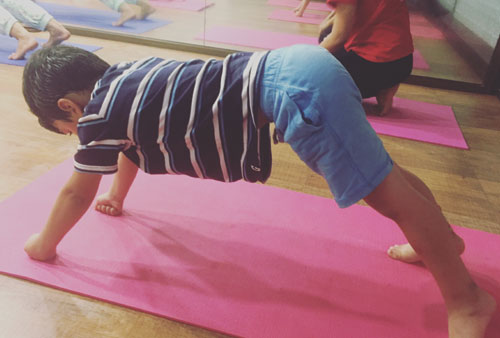 Gymnastics is a recreational activity and a competitive sport involving the performance of exercises requiring strength, flexibility, balance and control.
This may include running, jumping, tumbling, somersaulting, flipping and balancing. Children can benefit from an active lifestyle in more ways than you realize. The American Academics of Pediatrics states that taking part in organized sports and activities provides kids excellent opportunities for social and physical development. And, one of the best and most artistic sports activities is gymnastics.
Batch Timings :
Mon- Wed- Fri 5pm and 6.15pm
<!end Ashtanga Vinyasa Yoga content--> <!start HOT YOGA/POWER YOGA/BIKRAM YOGA content-->
Bollywood dance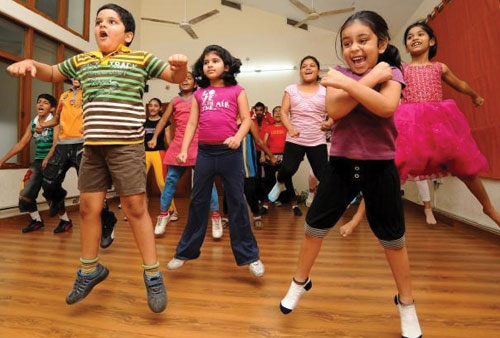 If you have kids, you may be wondering what is the best way to channel their seemingly boundless energy. While traditional team sports are a good way to get your kids physically active, they may not be right for younger children. Dance classes are a great alternative to team sports, and most studios offer lessons for children as young as two or three. Participating in dance classes can be beneficial for kids of all ages. At a bollywood Dance class we teach them a choreography of the latest bollywood hits.
Batch Timings :
Wed- Fri 7pm
Drawing Class
Perhaps the most basic benefit of art education for a young child is motor skill development; using crayons in an drawing class will encourage the development of small muscles and fine motor skills. Many children struggle with this as they grow, so giving your child a creative and fun outlet in which to harness those skills, without even realizing what is happening inside their own bodies, can be significant in your child's growth and development.

Fine motor skill development is important as young as 3 years old!


Batch Timings :
wed : 6-8 pm
Sat : 2.30-4.30 pm

50>